We aim for brands to not only be a showcase, but also become something meaningful to people.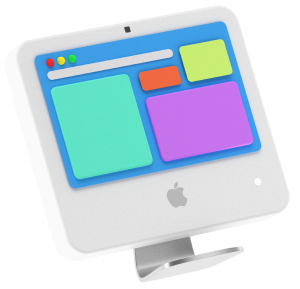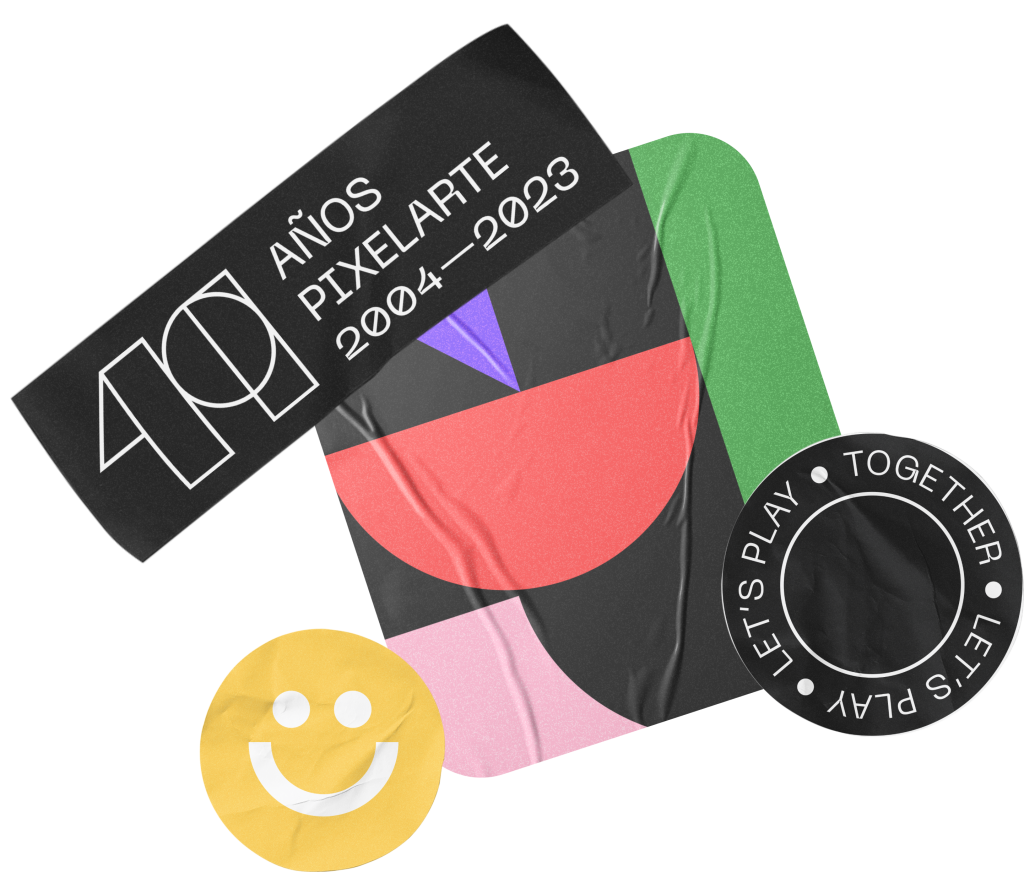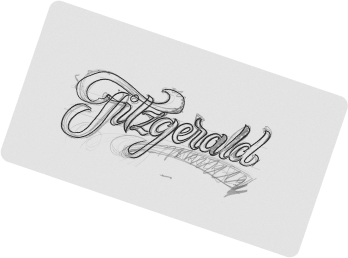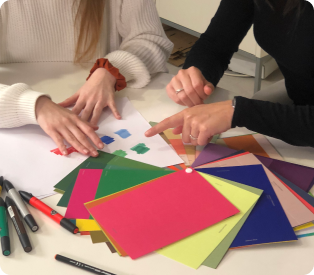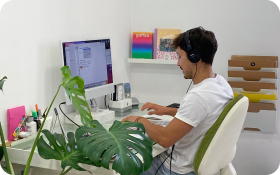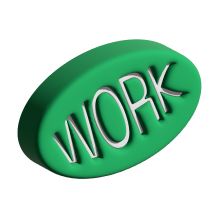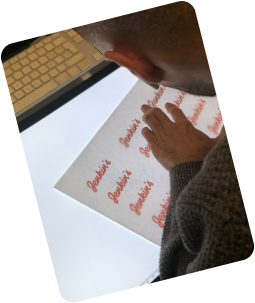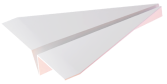 ✨ At Pixelarte, we love brands – from their creation to every single graphic element that accompanies them on their journey. That's why our services cover everything we can do to help your company boost your brand. ❤️‍
All the services you expect from a design studio like Pixelarte.
We are dedicated to offering comprehensive solutions that contribute to the growth of your company, adapting to your specific needs and strengthening your presence in the market. Trust Pixelarte to accompany you at every stage of the way, and discover how we can help make your brand shine! ❤️‍
Identity
01
Brand consulting.
Our Brand Consulting service focuses on creating a shared vision of what your brand represents. We start by carefully analyzing your brand, evaluating its coherence, commitment, authenticity, relevance, differentiation, and engagement.
Then, we work with you to create a personalized roadmap that allows you to create a memorable brand and define a unique value proposition in the market. We use active listening to understand your product and audience, and analyze your competition and the overall environment to create a benchmark.
Our goal is to help you create a strong and authentic brand identity that effectively conveys the values and essence of your business. We will present you with a complete brand projection, clear objectives, creative proposals, and a solid architecture for your company. Let us help you achieve your goals and stand out in the market!
02
Naming
At Pixelarte, we know that there is no perfect name, but we understand the importance of having a name that allows your audience to easily remember you and have a presence in their conversations and businesses.
To achieve this, we will conduct an exhaustive study of your particular case, analyzing your needs and objectives. We will determine what type of name best suits your needs: Do you need a descriptive name that clearly explains what you offer? Or do you prefer an evocative name that triggers emotions in your potential customers? Perhaps an abstract name that allows for greater flexibility to evolve in the future?
Based on this, we will develop a list of possible names that meet the established criteria and present you with a solid and memorable proposal. Together we will find the perfect name for your business!
03
Corporate visual identity
At Pixelarte, we are passionate about creating brands! We know that your company's image is key to establishing a strong and lasting presence in the market. That's why we are committed to creating a visual identity that reflects the values and essence of your brand.
We focus on understanding your company, its history, mission, and the values that drive it. From there, we work with you to develop a design that represents the essence of your business and sets it apart from the competition.
Our design team creates a solid, coherent, and memorable visual identity that includes everything from the logo and typography to the color palette and image selection. We also ensure that the visual identity adapts to all your company's channels and platforms, whether it's on the web, social media, or printed material.
In summary, our corporate visual identity design service provides you with the opportunity to create a professional and consistent image that reflects the essence of your company and helps it stand out in the market.
Let us help you create an image that represents you and helps you achieve your goals, just as we have done with our clients, bringing them many successes!
04
Coordinated graphics or visual system
Nowadays, we know that a brand goes beyond just a logo, which makes it more important than ever to create a coordinated graphic or visual system that gives you the opportunity to have a complete and consistent visual identity. By creating a visual system, we ensure that all elements of your brand are designed with the same style and follow the same graphic line.
This not only applies to the logo, but also to other elements such as typography, color palette, photography art direction or the creation of all graphic elements that will accompany the brand. By creating a coordinated graphic, we ensure the consistency and coherence of your brand at all touchpoints with your customers, whether it's on the web, on social media or in physical material that is generated.
At Pixelarte, we work with you to understand the essence of your brand and the values you want to convey. From there, we create a visual system that reflects your brand and makes it stand out in the market, achieving differentiation.
Flexibility is key in creating visual identities today, and that's why our proposal is based on the ability to adapt the brand to different formats and channels, both online and offline. This allows your brand to have a consistent and professional presence at all touchpoints with your customers, regardless of the channel or platform they use.
05
Brand voice and storytelling
At Pixelarte, we are passionate about creating authentic and engaging narratives for your brand through brand "tone" of voice and Storytelling. Our goal is to connect, excite, and inspire your audience by understanding your brand, values, and goals to develop a personalized storytelling strategy.
We define the appropriate tone of voice and develop captivating content for various formats, such as videos, social media posts, and advertising campaigns, that resonate with your followers and potential customers. We focus on capturing the unique essence of your brand and conveying what drives and defines it in every story.
Our mission is to transform your message into an emotional experience that strengthens the bonds with your audience, building genuine stories that reflect your values and illuminate your identity in every word. Make your brand speak through a powerful and authentic story!
06
Brandkeeper / Brand guardian
Brandkeeper is a brand guardian service that offers much more than just creating a visual identity. Our service focuses on ensuring the continuity of your brand identity on a day-to-day basis. Whether you have an internal team or manage communications yourself, Pixelarte provides the advice and assistance you need to keep your brand aligned with your values and goals.
From our studio, we make sure that all aspects of your brand, from marketing strategy to social media presence, are aligned with your visual identity and message. We also help you create and maintain a consistent tone of voice in all your communications.
In addition, our service includes constant monitoring of your brand online to ensure it remains positive and relevant in the minds of your customers and followers.
In summary, Brandkeeper is the guardian of your brand, working with you to maintain a consistent and relevant visual identity and message in the day-to-day operations of your business.
Experiences
01
Packaging
We love packaging! At Pixelarte, we'll help you make your brand stand out in the market by making it memorable. We know that packaging is a crucial element in the success of a product, as it not only needs to catch the attention of consumers but also communicate the value and quality of what it contains.
We work closely with our clients to understand your needs and goals, and create unique and personalized design solutions that fit your brand and target audience. Whether you need packaging design for a food product, beverage, cosmetics, or any other type of product, our team of designers can help you.
We focus on functionality, aesthetics, and innovation to create packaging that not only catches consumers' attention but also offers a unique experience from the moment the package is opened. If you're looking for a creative and high-quality packaging solution, we're your team.
02
Editorial design
At Pixelarte, we have true lovers of printed projects. We get excited about the smell of freshly printed paper and ink, and we love collecting magazines and books. For us, there is something special about taking our eyes off screens and immersing ourselves in the tactile and visual experience of a printed project.
We constantly strive to innovate and surpass ourselves in each editorial project, using different types of printing, papers, and finishes to achieve a design that surprises and delights our clients. We know that editorial design can be a key element in communicating your brand and in the customer experience, and we are committed to delivering the best quality in every project we undertake.
And while we are passionate about printed projects, we also understand the importance of the digital world. That's why we ensure that the experience of the digital products we design is as close as possible to holding a printed catalog or magazine in your hands.
03
Web
At our design studio, we love bringing brands to life in the digital world. We specialize in web design and development, and we know how important it is to have an online presence that lives up to your amazing products and services.
Not only do we create attractive and user-friendly websites, we also make sure they are optimized for search engines like Google and function perfectly on both desktop and mobile devices. Yes! We ensure that the user experience is flawless on any device, so your customers always enjoy browsing your website.
¿How do we do it? Well, we offer SEO consulting, so your website is easy to find and helps you connect with your ideal customers. We understand that the digital world can be overwhelming, but don't worry, we're here to help you stand out and succeed online.
Let our team of experts accompany you on your project, combining the best graphic design, programming, and digital marketing, so your brand shines online. Let's go! Join us and take your brand to the next level in the competitive digital world.
04
Space design
At the studio, we are passionate about taking brands to the next level. That's why we enjoy designing spaces that make your shop or office an extension of your brand. Our philosophy is to create an environment where the essence and values of your business are present for those who inhabit or visit it.
We use paint, vinyl, signage, lighting, signage and furniture to bring your facilities to life and make them a strategic part of your brand. Each element is carefully selected and designed to convey the personality of your brand and create a memorable experience for your customers.
We love working with brands that seek to stand out in their sector and create a unique environment for their customers. We will make your space something special.
05
Campaign creation
We understand that it can be challenging to know exactly what your business needs, which is why, based on our experience in creating communication campaigns and launching brands, our main goal is to boost the visibility of your business and establish a solid connection with your target audience.
Over the years, we have worked with a wide and diverse range of brands and companies, designing effective and personalized campaigns that reflect their unique identity and values. We immerse ourselves in each project with a strategic and creative approach, adapting our solutions to the specific needs of each project.
06
Video & Photography
At Pixelarte, we understand how important it is to tell stories through impactful images and videos that capture the essence of your brand, products, and services. We have a team of photographers and videographers who immerse themselves in your world to capture it in high-quality photographs and videos to take your brand further.
At Pixelarte, we will work with you and your team to capture the essence of your brand, products, and services in impactful images and videos. We will take care of everything from planning and production to post-production and editing, ensuring a quality that matches your project.
¿Looking to stand out on social media? Let's talk! We create visually appealing and memorable content that will help you connect with potential customers and increase the visibility of your brand. We understand the importance of adapting each piece to different platforms and devices, ensuring an optimal visual experience in any environment.
So if you're looking to bring your brand to life with images and videos that reflect the spirit of your brand, get in touch with us and let's take your visual content to the next level in the competitive digital world.
07
Illustration
At Pixelarte, we understand that design and illustration are inseparable companions. We are passionate about incorporating illustrations into our projects when their nature requires it. We conduct a thorough analysis of styles and needs to create illustrations that not only possess their own personality but also perfectly fit your brand philosophy.
Our creative approach covers various areas, from decorating your premises with striking neon signs to illustrating your product packaging or generating visually appealing content for your social media. In each project, we strive to offer unique and exciting solutions that highlight the essence of your brand and capture the attention of your audience.
08
Animation & Motion Graphics
¡The best way to say a lot in a short time! At the studio, we understand the importance of having a good storytelling to bring brands to life. That's why we love creating animation and motion graphics videos, creating striking and memorable visual pieces that connect with your audience.
Our process begins with the development of a script, based on the storytelling of your brand, carefully adapted to the formats, touchpoints, and audience you are targeting. Then, we focus on art direction, selecting the appropriate music and visual resources (photography, video, or illustration), which we animate to explain a lot in very little time, in an inspiring and captivating way.
Finally, we take care of the post-production, ensuring that the final result is impeccable and that your message effectively reaches your target audience. With our animations, your brand will stand out in the competitive digital world.
Corporate identity, packaging, illustration, web design, 👀 Request your free consultation and we will advise you on your project
Clients
These are some of the clients that have trusted Pixelarte since 2004.
We wouldn't be anything without our clients, without all those people who entrust us with the corporate image and communication of their projects. These are some of the companies that decided to do things differently and relied on us to do so.
What they say about us
"Para mí Pixelarte es más que un proveedor, es una herramienta. Y no por su trabajo redondo, sino por su estilo y fiabilidad ante un proyecto. Para mí son la unidad de medida en la relación rigor-creatividad para agencias y diseñadores; tanto es así que como director de marketing en Mustang bauticé esta ecuación como «la escala Pixelarte»".

Gabriel Pons

Director de marketing en Mustang-MTNG Experience

"Una forma de trabajar artesanal para un resultado digital. Trabajar con Pixelarte implica un extremo cuidado del proceso y de los acabados. Su trabajo es fino, muy detallista y lleno de sentido común. Tienen un espíritu autocrítico que les hace avanzar hacia la excelencia. Todo ello conecta con los pilares de "ADN Cerámico" y su objetivo de poner en valor la artesanía. Ha sido un proceso suave y un placer compartir el camino con ellos, ¡gran equipo!".

Ana Illueca

Ceramista y directora de ADN Cerámico

"Colaborar con Jorge y su equipo nos facilita la vida: son muy profesionales y cercanos, además siempre aportan un toque creativo y especial a las ideas que proponemos. Cada vez que ponemos un proyecto en manos de Pixelarte, sabemos que todo irá sobre ruedas. El resultado se ve y eso lo valoran nuestros clientes".

Mª Ángeles Ruiz Gámez

Directora de Esmovia

"Pixelarte es un gran equipo que nos ha contagiado su pasión por el diseño y nos ha ayudado a implantarlo en nuestra forma de trabajar. Se han adaptado a las necesidades de nuestra empresa y nos han ofrecido soluciones. Su disponibilidad y comunicación continua con el cliente y su trato amable y cercano han facilitado el desarrollo de los proyectos. Y su profesionalidad y alto nivel de exigencia han aportado a los mismos una gran calidad".

Consuelo Marí

Depuración de Aguas del Mediterráneo

"Empecé a conversar con ellos sin conocimiento de los procesos propios del trabajo creativo, y desde el primer momento me orientaron con amabilidad, respeto, y mucha paciencia. Me aconsejaron y me hicieron saber lo que necesitaba, no lo que otros me querían vender. Su honestidad me ayudó a ahorrar dinero, tiempo y esfuerzo".

Rolando A. González

Executive Assistant en Velox Logistics (Texas)

"Con motivo de la publicación de la revista de Fallas de Onda Cero, contactamos hace años con Pixelarte. Buscábamos nuevas ideas y un aspecto más actual. Lo primero que me gustó de ellos fue su rigor y exigencia en el trabajo, así como el trato con el cliente. Si tengo que definir en pocas palabras lo que nos aporta Pixelarte desde entonces, me inclino por su profesionalidad, por su capacidad para ver las necesidades de sus clientes y saber satisfacerlas".

Inma Royo

Directora comercial en Onda Cero Radio

"Empezar un nuevo proyecto es algo muy duro, por eso estar bien acompañado es tan importante. Esa buena compañía la hemos obtenido de Pixelarte: Jorge y su equipo nos han aportado grandes dosis de creatividad y experiencia en el mundo de las apps de fotografía. Captaron qué era Tagloo y a donde queríamos llevarlo. Ahora es un proyecto global, con una solución de diseño de marca y app que te hace estar orgulloso en cualquier lugar del mundo donde lo enseñes. Gracias Pixelarte por ser parte de Tagloo".

Álvaro Trénor

CEO en Tagloo

"Desde los inicios de Billin dimos mucha importancia a nuestra marca, pero a la hora de crearla nos encontramos con que estábamos perdidos ya que no sabíamos cómo transmitir nuestros valores. Entonces apareció Pixelarte y le dio una vuelta de 180º a todo lo que teníamos. El estudio creó una marca que representaba a la perfección todos los valores que buscamos; lo que consiguieron crear fue sencillamente una marca inmejorable e irrepetible".

Diego Goya

Fundador y CEO en Billin

\"El resultado final de cada encargo supera siempre con creces nuestras expectativas; su capacidad para adaptarse a cualquier contratiempo, su cercanía y su \"gracia creativa\" hacen que Pixelarte sea, más que un proveedor de servicios, un socio perfecto. Pixelarte ha conseguido que mi producto tenga visibilidad, que se valore y que quiera ser probado".

Pablo López

Gerente en Cervezas Artesanas POL

"Ser sincero en los consejos, generar críticas constructivas y aportar sugerencias son para mí, aspectos determinantes en un proveedor. Pixelarte es ya parte de la familia Hisense porque cumple estos requisitos y aporta valor a las empresas. Valor con sus trabajos impolutos y valor como soporte externo al departamento de marketing".

Almudena Santamaría

Marketing manager en Hisense Iberia

"El trabajo de Pixelarte suscita siempre gran interés, pero verlos manos a la obra, genera además entusiasmo. Pixelarte es un grupo de trabajo que desde el primer momento adopta tu idea, la cuida y la nutre para que crezca sana, fuerte y bella. A día de hoy, Pixelarte es parte integrante de nuestra empresa".

Angelo Vito D'Andrea

Director administrativo en Esmovia

"Pixelarte no es solo un proveedor, va mucho más allá: Pixelarte es tu partner, tu socio estratégico, alguien tan preocupado por el éxito de una creatividad como el propio cliente. Eso es compromiso, eso es Pixelarte"

Raúl Moreno Zayas

Director de eventos de motor en Motorpress-Ibérica

"Acudimos a Pixelarte buscando a los mejores profesionales para que nos ayudaran en el comienzo de nuestro proyecto y desde el principio supieron captar en sus diseños la esencia de nuestras ideas y de lo que queríamos transmitir. Nuestra imagen, que es la suya, ha enamorado a pequeños y mayores. En todo este tiempo no solo han sido profesionales excelentes, sino que se han convertido en consejeros y amigos, han apoyado nuestro crecimiento y nos han ayudado en nuestra nueva etapa dándole vida a nuestros sueños".

Ana Celma

Gerente en Centros de Educación Infantil Xicotets

\"Desde el primer contacto con Pixelarte para la remodelación de nuestra imagen corporativa, el equipo se mostró muy profesional y atento a nuestras necesidades. A lo largo del proyecto han estado siempre muy presentes, resolviendo todas las dudas que pudiesen surgirnos. Estamos muy satisfechos con los resultado: nos han proporcionado una imagen moderna y elegante, muy acorde con nuestro negocio\".

Amélie Dierckx

Directora de marketing en XPR Europa. Bélgica

\"Pixelarte nos ha ayudado a entender la marca corporativa y la imagen de la empresa como una ventaja competitiva; además ha personalizado la marca con nuevas ideas, trabajando en cada detalle. Con su profesionalidad, su trabajo y su apoyo nos ha diferenciado de la competencia. Por todo esto, les estamos muy agradecidos\".

Jesús Miñana

Gerente de Saibo

"Cuando creamos la empresa teníamos claro que queríamos invertir en nuestra imagen, y para ello contamos con Pixelarte. ¿Y qué hicieron? Nos escucharon, nos escucharon y nos volvieron a escuchar; pensaron, trabajaron y nos presentaron nuestra nueva imagen: ¡espectacular! ¿Repetiríamos? ¡Seguro! Más aún, hoy toda acción de comunicación de nuestra empresa sale del laboratorio de Pixelarte".

Álex Albero

Director general de Diagnova Médica

Pixelarte es garantía de éxito en todos los aspectos: diseños originales excepcionales y totalmente personalizados, cuidada adaptación del proyecto al local, y sobre todo, una atención postventa insuperable. Bravo por Pixelarte, ¡es mucho más que un proveedor!

Juan Miguel Ferrando

Gerente de Pinguitours

Son muy profesionales. En mi caso me aportó mucha confianza el ver que para ellos el diseño no es solo tener un buen gusto sino que tienen una base científica en sus trabajos. Los resultados son muy buenos y el valor que le dan a tu marca es difícil de superar. Muy recomendables...

Javier Lacambra

Director de Lacambra Guitar School

Sin lugar a duda uno de los mejores estudios de diseño gráfico de Valencia. En el caso de nuestra empresa, Miscota, el resultado siempre ha sido brillante. Seguro que en el futuro realizamos mas proyectos con ellos

Vicent Jornet

Director General de Miscota

Después de casi 30 años, desde la apertura de la primera tienda "Cobel", vimos necesario un cambio importante en la imagen corporativa. Desde el primer contacto, supimos que era la empresa ideal y lo que íbamos buscando; tanto por su profesionalidad como por su calidad en todos los proyectos realizados. Estamos súper agradecidos por el proyecto realizado, y lo que ha mejorado nuestra empresa gracias a ello.

Jose Vicente Sayas

Cobel la jamonería

Trabajamos con Pixelarte para el diseño de la nueva farmacia, ¡fue facilísimo! El resultado fue perfecto, mostrando en todo momento un estilo muy adecuado a nuestra manera de pensar y al ambiente en la farmacia. La implicación en el proyecto estuvo siempre al 100% y les dejamos libertad de actuación, siendo muchísimo mejor el resultado de lo esperado. Gran trabajo, y además muy rentabilizado, ya que creemos que nuestra nueva imagen ha reforzado a nuestros clientes y atraído a clientes nuevos. Sin duda fue un grandísimo acierto contar con Jorge y todo su equipo, ¡muchas gracias!.

Farmacéutico Horacio Jiménez

Farmacia Corona

Súper profesionales además de encantadores. Nos han hecho la imagen corporativa de la farmacia y no podemos estar más contentos!! Han hecho un trabajo fantástico! Recomendables al 100%

María Martinez Gimeno

Gerente de Farmacia Martinez Gimeno

Encargamos a Pixelarte el diseño, imagen corporativa, packaging... de nuestra marca burbur, estamos muy contentos del resultado. Nos han sido muy atentos y colaborativos. Totalmente recomendables

Jose Ripoll

Gerente de Burbur

Llegamos a Pixelarte con muchas ideas sueltas y con ganas de vernos mas profesional. Ellos lograron escucharnos y materializar nuestra visión y esencia mediante una propuesta de identidad muy buena y la cual se adapta a lo que somos como empresa de Logística. Adicional a esto, lograron entregarnos una hermosa web bastante completa y profesional. Estamos agradecidos de encontrarnos con Pixelarte y lo recomendamos 100% si quieren llevar su empresa al siguiente nivel.

Jeyson Blanco

CEO de Segucargo